Gary R. Pollard
Associate Real Estate Broker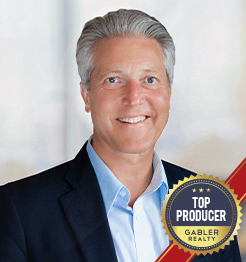 "Satisfying You Is Gratifying To Me!"
Gary Pollard has been a successful New York State Realtor since 2012, gaining his current status as Associate Real Estate Broker soon after. Growing up alongside his grandfather and uncle, who were both Real Estate Brokers, laid the foundation for Gary's interest in the real estate field. His long, 27-year history of working in a commercial lending and managerial role provided him with the opportunity to interact with many varied clients, develop a strong appraisal background, originate and underwrite loans, and perform real estate evaluations of all sorts. This background, combined with the better part of a decade of experience as a Realtor, has given Gary's business a leading edge and a well-rounded perspective that greatly benefits his clients.
Gary is best known by his clients for his high level of customer service and valuable guidance. "I offer prompt, professional, and proactive service and make it a top priority to communicate with you regularly throughout our relationship. I pride myself on providing timely feedback and a personal one-on-one connection." Gary's long employment history of working with clients' credit needs can help you understand and streamline the particularly stressful parts of the home buying or selling experience. "It's my pleasure to assist my clients through the process of completing one of the largest financial and emotional decisions of their lifetime." Gary's valuation skill set is also incredibly advantageous to his seller clients in today's competitive market. Over his real estate career, Gary has closed over $60 million in sales inventory and has consistently proven himself as a top producer and leader.
It's Gary's outstanding commitment to service that led him to join Gabler Realty. "I wanted to reunite with Judi and her seasoned agents who I had worked closely with in the past and valued their high level of service standards. After working with them on a recent deal and admiring Gabler Realty's industry-leading marketing, networking, and online tools, I knew it was the right place for the future of my business."
When not working tirelessly for his clients, Gary enjoys spending time with his wife of 41 years, adult children and their spouses, and his first granddaughter! Although he absolutely loves his home here in Delmar and 88-acre farm property in East Berne, Gary and his family also love traveling to the Caribbean, California's wine country, and "anywhere that's relaxing and fun!"
If you are looking for a Realtor that will treat you with respect and negotiate hard on your behalf, call Gary to set up a time where you can meet in person to establish a plan to discuss your real estate needs. Or if you prefer to email, you can do so at Gary@GablerRealtyNY.com. "I take a great deal of care to ensure that my clients will completely enjoy their experience of buying or selling real estate. My motto says it all – Satisfying You is Gratifying to Me!"
Browse Featured Listings

Sorry we are experiencing system issues. Please try again.

Send Me a Message
Fill out the form below to send me an email and I will get back to you shortly.