Gary R. Pollard
Associate Real Estate Broker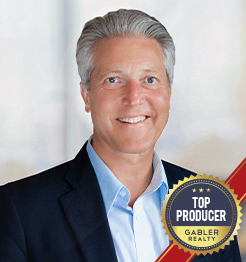 "Satisfying You Is Gratifying To Me!"
Gary Pollard has been a successful New York State Realtor since 2012, gaining his current status as Associate Real Estate Broker soon after. Growing up alongside his grandfather and uncle, who were both Real Estate Brokers, laid the foundation for Gary's interest in the real estate field. His long, 27-year history of working in a commercial lending and managerial role provided him with the opportunity to interact with many varied clients, develop a strong appraisal background, originate and underwrite loans, and perform real estate evaluations of all sorts. This background, combined with the better part of a decade of experience as a Realtor, has given Gary's business a leading edge and a well-rounded perspective that greatly benefits his clients.
Gary is best known by his clients for his high level of customer service and valuable guidance. "I offer prompt, professional, and proactive service and make it a top priority to communicate with you regularly throughout our relationship. I pride myself on providing timely feedback and a personal one-on-one connection." Gary's long employment history of working with clients' credit needs can help you understand and streamline the particularly stressful parts of the home buying or selling experience. "It's my pleasure to assist my clients through the process of completing one of the largest financial and emotional decisions of their lifetime." Gary's valuation skill set is also incredibly advantageous to his seller clients in today's competitive market. Over his real estate career, Gary has closed over $60 million in sales inventory and has consistently proven himself as a top producer and leader.
It's Gary's outstanding commitment to service that led him to join Gabler Realty. "I wanted to reunite with Judi and her seasoned agents who I had worked closely with in the past and valued their high level of service standards. After working with them on a recent deal and admiring Gabler Realty's industry-leading marketing, networking, and online tools, I knew it was the right place for the future of my business."
When not working tirelessly for his clients, Gary enjoys spending time with his wife of 41 years, adult children and their spouses, and his first granddaughter! Although he absolutely loves his home here in Delmar and 88-acre farm property in East Berne, Gary and his family also love traveling to the Caribbean, California's wine country, and "anywhere that's relaxing and fun!"
If you are looking for a Realtor that will treat you with respect and negotiate hard on your behalf, call Gary to set up a time where you can meet in person to establish a plan to discuss your real estate needs. Or if you prefer to email, you can do so at Gary@GablerRealtyNY.com. "I take a great deal of care to ensure that my clients will completely enjoy their experience of buying or selling real estate. My motto says it all – Satisfying You is Gratifying to Me!"
Browse Featured Listings

Sorry we are experiencing system issues. Please try again.

Hire Gary as your listing agent and let your worries be gone! Gary takes the stress and guessing out of this stressful real estate market, specifically with making recommendations on pricing that resulted in a full price offer on our home within a few short days and a smooth and quick closing. Our experience working with Gary was so much more favorable than what we have experienced with our prior Realtors. Gary's greatest asset is in his strong communication and follow up that he provides, as well as helping us navigate through a few inspection issues and the last minute clean up for our photo shoot, resulting in our home being SOLD!
This was our 4th real estate transaction with Gary as our Realtor. We chose to continue working with Gary as our realtor for numerous reasons, the main one being we knew we could trust him with the sale of our home. Gary goes above and beyond and makes sure every detail is covered and everything is fine tuned so that nothing pops up out of the blue at closing or along the way even. He covers all the bases. His marketing skills and other efforts also helped us to get a quick sale with multiple offers that resulted in a final sale price well above list price. Gary provided continuous communication as well, and even negotiated to find us a rental home to perfectly time with the sale of our home. Thank you Gary!
When my wife and I were looking for a retreat outside the city, we did not expect to find somebody who would help make the process as seamless as Gary did.We met Gary at one of his listings, and could immediately tell that he was an honest realtor who was always looking out for the interest of both the buyer and seller. Over the next few weeks we had stayed in touch, and ultimately he was able to help us close the deal on a great property. In such times as 2020 has been, Gary helped to navigate all of the hurdles without a hiccup. Since we were unfamiliar with the area, he was able to provide multiple strong recommendations for lawyers, inspectors, banks, etc., and even managed to track down every company that had worked on the property for the previous owner. Gary is without a doubt our first recommendation for anyone looking for a kind, educated, and motivated realtor. We cannot thank him enough for all of the help that he has provided.
We can't say enough about the job Gary Pollard did as our realtor. He is a personal friend and it's always risky mixing friendship with business but it paid off big time for us once again. This was the third and perhaps most successful endeavor yet. Three years ago Gary helped us get an incredible home in an 11 offer, multiple bidding situation. We made the difficult choice to relocate and had to sell our home with tight time constraints. Our home needed to be sold within 30 days so we could close on our new Florida home. Gary was up for the challenge. We topped the 11 offers our home that it previously received with 13 offers, most over asking. He helped us set a price point to realize a competitive bidding situation and we received some incredible offers, well over asking, but one in particular blew away the rest, by a long shot. The buyer was from Houston and made the decision to purchase the home mostly based on the marketing materials Gary prepared. Our "upgrade" Florida home suddenly turned into a "downgrade" from a financial standpoint in a very hot Florida market, nonetheless.Gary recommended a great attorney and helped us navigate through an issue that came up during inspection that threatened to delay closing, which wasn't an option for us. With his guidance we closed on time and made a successful move. When contemplating purchasing that home, Gary gave some priceless advice, "you need to look towards the future, if you think you can afford the house now on your current salary, your salary will continue to rise and it'll be a worthwhile investment." That couldn't have been more true. We are pleased to call Gary our realtor and most importantly, our friend. We highly recommend Gary to others for your real estate needs.
Send Me a Message
Fill out the form below to send me an email and I will get back to you shortly.