Judi Gabler
Judith Gabler, Real Estate Broker & Owner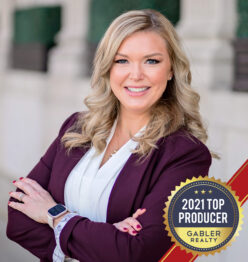 Judi Gabler is known for her go-getter attitude, her tenacious leadership skills, and her unyielding loyalty to friends, family, clients, and her team. A native of the Town of Bethlehem, and a graduate of State University of New York at Fredonia, she proudly calls New York and the Capital Region "home."
With a degree in public relations and much determination, Judi embarked upon a career in real estate in 2010. After recognizing her leadership skills and the principle that strength occurs in numbers, she founded Gabler Realty in 2017. Despite building a real estate career in rocky economic times, Judi has experienced enormous success. This is largely due to her commitment to a core set of values in everything that she does.  In 2017, Judi was named a National Association of REALTOR's Top 30 under 30, and is consistently honored for her sales volume under the Women's Council of REALTORs. In 2021, she was honored as an Albany Business Review's top "40 Under 40" businessperson in the Capital Region.
However, for Judi, the most prized award is the lasting client relationships she works to build and maintain. She always seeks a win-win experience in all that she encounters, while providing the highest level of service and expertise. This drive, determination, and unwavering professionalism is seen throughout the agents in the firm and has launched Gabler Realty into one of the Capital Region's most esteemed real estate companies.

Judi and her team were wonderful to work with. They were always a step ahead of us providing their expert guidance. Judi contacted us numerous times after hours and weekends to ensure we were up-to-date regarding our new build and home sale. We couldn't have asked for a better experience! Gabler realty made it easy for us!
It was such a pleasure to work with Judi and her team. We bought a house and sold a house with her help in the past few months. This process can certainly be difficult but Judi makes it as stress-free as possible. With her highly developed expertise, kindness, competence and intelligence, she is able to address every step and issue so well. She has an unsurpassed level of professionalism, while being patient and easy to work with. I highly recommend Judi and her team for any of your real estate buying and selling plans.
Judi & team made the process of buying and selling so smooth and seamless! So very kind. Personable. Professional. Readily available. Clear communication. We felt so important and valued
Judi is the best possible realtor! I'm sure she goes beyond most realtors in what she does for her clients! She is there every step of the way, helping to get contractors to fix things that need doing before putting a place on the market, checking with them as they do the work, then inspecting when it is all done. She is a wonderful communicator, and is very frequently in touch to keep her clients informed of where things stand. She answers queries almost before they are sent, at any time of the day or evening. Her enthusiasm is infectious, and her assurances about every aspect of the process puts her clients at ease. She has boundless energy for whatever the challenge is. She always has good instincts as the sale/purchase comes to a point where decisions need to be made. I would never go with another realtor after seeing how she handles her work! I can't recommend her highly enough!
Send Me a Message
Fill out the form below to send me an email and I will get back to you shortly.