Judi Gabler
Judith Gabler, Real Estate Broker & Owner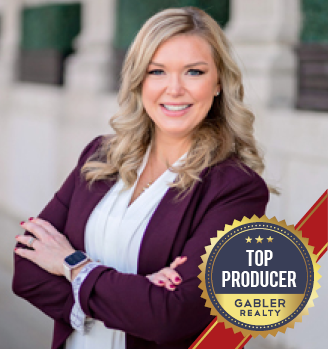 Judi Gabler is known for her go-getter attitude, her tenacious leadership skills, and her unyielding loyalty to friends, family, clients, and her team. A native of the Town of Bethlehem, and a graduate of State University of New York at Fredonia, she proudly calls New York and the Capital Region "home."
With a degree in public relations and much determination, Judi embarked upon a career in real estate in 2010. After recognizing her leadership skills and the principle that strength occurs in numbers, she founded Gabler Realty in 2017. Despite building a real estate career in rocky economic times, Judi has experienced enormous success. This is largely due to her commitment to a core set of values in everything that she does.  In 2017, Judi was named a National Association of REALTOR's Top 30 under 30, and is consistently honored for her sales volume under the Women's Council of REALTORs. In 2021, she was honored as an Albany Business Review's top "40 Under 40" businessperson in the Capital Region.
However, for Judi, the most prized award is the lasting client relationships she works to build and maintain. She always seeks a win-win experience in all that she encounters, while providing the highest level of service and expertise. This drive, determination, and unwavering professionalism is seen throughout the agents in the firm and has launched Gabler Realty into one of the Capital Region's most esteemed real estate companies.

Gabler Realty helped us navigate buying and selling a home in a very challenging real esate market. Judi and Ally guided and advised us on all aspects of the process including preparing our home for sale, searching for a new home, negotiation, inspection and closing. Judi and her team are the experts!
We had a truly amazing experience. Judi and her team were attentive and friendly. We highly recommend her and Thankful for all the time she spent with us.
Judi helped my Mom buy a new home and sell her existing home. She and her associates were absolutely amazing! She walked us through each detail of the process and stuck with it all the way, even though several unique and complicated issues came up in trying to sell the old house. She has a wealth of contacts, all of whom are responsive, respectful and do great work. They were so helpful in the moving process, from actually moving my Mom to painting, repairs, inspectors and a wealth of others. I would recommend Judi to anyone looking to buy or sell their home. Buying and selling a home is personal. Judi understands this and puts in her all to make the experience the best possible.
Judi and her team were wonderful to work with. They were always a step ahead of us providing their expert guidance. Judi contacted us numerous times after hours and weekends to ensure we were up-to-date regarding our new build and home sale. We couldn't have asked for a better experience! Gabler realty made it easy for us!
Send Me a Message
Fill out the form below to send me an email and I will get back to you shortly.