Dave Ryan
David Ryan, Real Estate Salesperson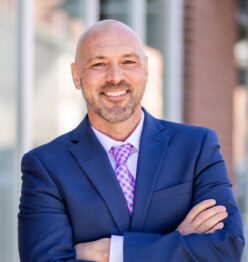 David "Dave" Ryan is a Mechanicville, NY native and Licensed Real Estate Salesperson with over a decade of industry experience. Since he began his career in 2007, Dave has been dedicated to helping Capital Region residents achieve their real estate goals and dreams of owning their own home!
In this ever-changing real estate market, Dave understands how to overcome challenges and choices that both buyers and sellers have to face. Dave's extensive background in teaching and coaching, as well as his current employment as an Instructional Designer and e-Learning Specialist for CDPHP, have helped him build tremendous communication and organization skills. Dave strives to make sure his clients are confident and informed about every detail – from the importance of timing, to the details of the transaction process, and beyond!
"I pride myself on being available anytime and always being willing to do whatever it takes to go above and beyond for my clients. Protecting their interests and working hard to fulfill their needs is incredibly important to me."
Dave's friendly and hardworking personality brings the best resources to the table for his clients. As someone who will take the time to listen to your needs and provide honest advice, Dave is an incredible Realtor and advocate to have on your side.
"My goal is to always continue building my experience to be able to help a variety of clients. From new home buyers to experienced sellers, I want to be a valuable asset to all of my clients. The most rewarding part of my job is being able to help people and build meaningful, lasting relationships."
This determination to grow and better himself inspired Dave to reach out to Gabler Realty with the original goal of learning how to become a successful broker himself. After talking with Judi Gabler and learning about all the resources our brokerage has to offer, Dave knew he wanted to become a part of Gabler Realty! To Dave, it was an "easy decision to join such a great team who works together and supports each other." Since Dave has joined Gabler Realty, his resources have grown tremendously and he's looking to expand all aspects of his business. By offering valuable skills and a wealth of knowledge, Dave is committed to making a difference and "being the go-to person when the topic of buying or selling comes up."
As a growing entrepreneur and working father with two young kids, Cameron and Katie, Dave knows the importance having a good work-life balance and being a great role-model.
"Time is the most important thing in life. My strong desire to have a healthy personal and work life drives me to spend my energy in the right places to not only achieve balance, but to also make a difference in other people's lives. I want to work together to achieve their goals!"
Browse Featured Listings

Sorry we are experiencing system issues. Please try again.

Dave was so great and personable to work with! We could text him any day any time with a listing and he'd be on it so quickly. He had so much patience with us going to see probably 10 or more properties and was very thorough at each place. He'd look at every inch, every crack and crevice of each property. In the times we're in with how crazy the market is, Dave was the best choice we could've made!
Dave was nothing short of amazing ! I am a very picky person, and stuck in my ways. Dave met every little detail, was always there when I had a question. He helped out a ton with every process of selling my home and getting me the price I wanted. He will definitely be helping me but my new home soon !
Dave helped my husband and I buy our first home. We were very thankful to come into touch with Dave through Gabler Reality. Finding our first home was overwhelming at first, but Dave helped us every step of the way. He had a very flexible schedule when it came to viewing potential homes, even meeting us on the weekends and evenings. We would 100 percent recommend Dave to all of our friends and family! So glad we were able to find our first home!
Dave was knowledgeable, timely, encouraging, supportive, and truly felt like a member of our team. He always worked in the best interests of us and wanted to make the process and simple and straightforward as he could. Dave is epitome of a professional and anyone would be lucky to have him on their team.
Send Me a Message
Fill out the form below to send me an email and I will get back to you shortly.