Christie Spellmeyer Rudolph
Real Estate Salesperson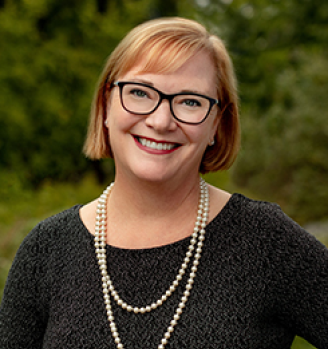 Raised in the Capital Region, Christie's parents started flipping homes in Albany and Columbia counties. Every two years she moved from a beautiful home into another neglected property. "This was long before HGTV hit the air. Watching my parents transform these properties gave me an early appreciation for design. My parents were creating "open concept" floor plans decades prior to it becoming the first-floor standard layout. Indeed they were visionaries."
Following her passion for anything related to design, Christie earned a Bachelor of Arts degree in Interior Design and Marketing from Marymount University in Arlington, Virginia. "Upon graduating, the economy was in a recession and job opportunities were far and few between. After a couple of stumbles, I fell into the world of Ophthalmology (Eye Drs.) and I stayed for 20+ years! My perseverance, tenacity, and hard work paid off. I ended up being one of 2 women in an executive role amongst 22 men!"
Interior Design continued to remain a passion of Christie's and added to that was architecture. "When I spoke about my interests outside of work people would say "You should really consider going into real estate!" Although I did ponder the idea, the timing was never right and I continued on with my career. I'm also extremely loyal so that too was a big factor in my decision."
In 2019, Christie partnered in her first flip. She designed the space of the home from the studs and specked all the finishes. When the home sold it put the neighborhood at an all-time high for price per square foot. "My childhood passion for design had come full circle. I was smitten. I wanted to flip another home immediately!" Eventually, Christie decided it was time to slow down in Ophthalmology and take the opportunity to become a Licensed REALTOR®.
Christie takes her license very seriously and dedicates herself to making transactions as smooth as possible for the sellers and buyers that she works for. "One pledge you can absolutely count on by working with me is, I am here to represent you skillfully and respectfully for any real estate need. By adhering to fiduciary guidelines I'll walk you through any situation that may arise during the buying or selling of residential real estate. I will not disappoint you!"
Browse Featured Listings

Sorry we are experiencing system issues. Please try again.

Send Me a Message
Fill out the form below to send me an email and I will get back to you shortly.